Blog
"You know I work all day to get you money to buy you things." The Beatles. Unemployment edged higher in December with more Americans entering the labor market. Wages ticked up, too.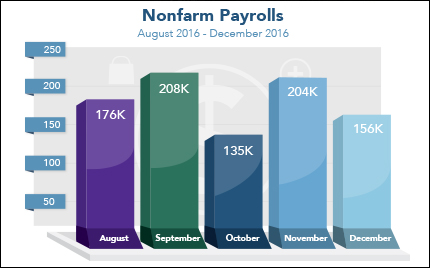 The Bureau of Labor Statistics reported U.S. employers added 156,000 new jobs in December, which was below the 175,000 expected. October and November job growth was revised higher by 19,000. In 2016, job growth totaled 2.2 million, down from a gain of 2.7 million in 2015.

The Unemployment Rate ticked higher to 4.7 percent in December. While this might seem negative, it's actually positive because more Americans sought out employment in December.

Average hourly earnings rose from -0.1 percent in November to 0.4 percent in December. In addition, average hourly earnings rose 2.9 percent year-over-year, the fastest pace since June 2009. Wage growth is a welcome sign for American workers, especially for those looking to buy a home.

Home price gains remained solid in November. CoreLogic, a leading provider of consumer, financial and property information, reported that home prices, including distressed sales, rose 7.1 percent from November 2015 to November 2016. Low inventories of homes for sale continued to push prices higher. The recent rise in mortgage rates and the expectation of higher rates in 2017 could slow home price gains in 2017, CoreLogic reported. Home prices are expected to rise 4.7 percent from November 2016 to November 2017.

Home loan rates were able to improve slightly after reaching two-year highs. They are still in historically low territory, though the volatility in the markets that followed the presidential election could continue.

If you or someone you know has any questions about home loan rates or products, please don't hesitate to contact me.
Mann Mortgage was recognized as Montana's #1 Zero-Down USDA/Rural Development Lender!!!!!!
We are an incredible company helping people live the American dream of home ownership. As a company we did 1.5 Billion in business last year and have over 42 branches in 16 states! We are Montana based company and looking to grow in Billings.
Contact Greg Ando if your interested in working for a Tried Trusted and Proven company.
Mann Mortgage was given a Lender Award for being a MBOH Top Participating Lender - MCC Program.
The MCC allows eligible homebuyers to receive a dollar-for-dollar reduction in their federal income taxes of up to 20% of the annual interest paid on their mortgage. Borrowers can file an amended withholding statement with their employer, and increase their monthly take-home pay by the amount of the credit. This additional income can be used to help qualify a borrower for a loan. The MCC can be attached to any loan statewide, except for a loan financed through any other Montana Board of Housing Program.
Dan Maki is help teach the First Time Home Buyers class this weekend at Head Start School 60 615 North 19th St. This is a great class for First Time Home Buyers getting there Home Buyers Certificate.
Follow the link below to register or call 406-206-2717
http://www.nwmt.org/NWMT%20Net…/Billings-Home-Center-Classes
The new Billings Relocation Guides and City Maps are out and available in our office. Best of all there all free! If you know anyone who is thinking of moving to Billings stop by and pick up your copy for them.